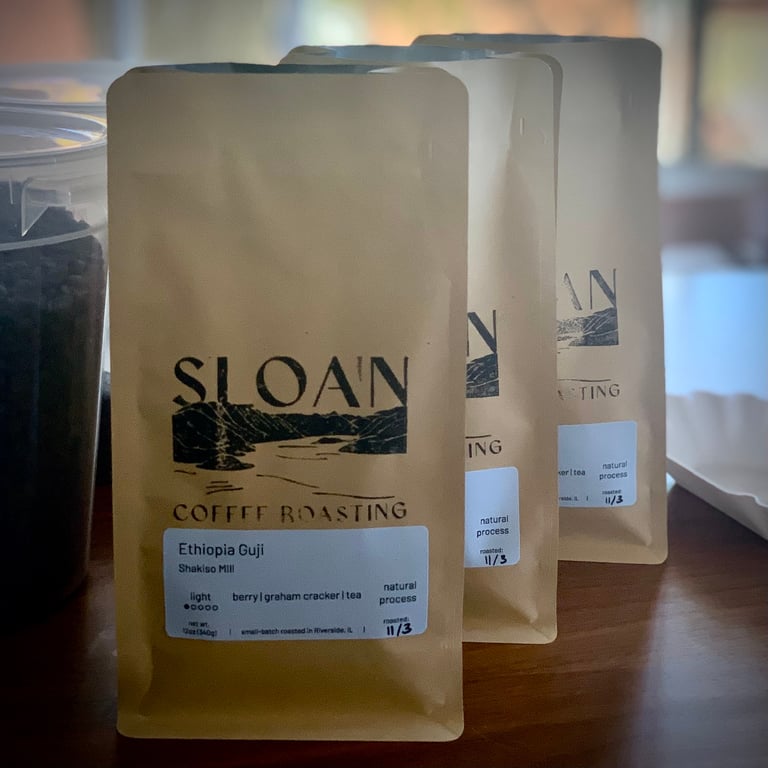 Start your weekends with 12-oz. bag of affordable, high-quality coffee, delivered to your door (for free!) every Friday. Whether you're a coffee snob like us, or simply someone who enjoys supporting small, hyper-local businesses – we're glad you're here.
Click below to choose a subscription based on your personal coffee preferences!
Light-Medium Roast [whole bean coffee]
Light-Medium Roast [ground coffee]
Medium-Dark Roast [whole bean coffee]
Medium-Dark Roast [ground coffee]
------------------------
How it works:
------------------------
• From our home in Riverside, IL – we roast a new single-origin coffee every week (+ the occasional blend!) We roast everything from fruity & floral Ethiopians to bold & spicy Sumatrans (and everything in between!).
• The flavor profile of our coffee changes week-to-week, but always stays in your preferred roast style (Light-Medium or Medium-Dark). The only thing that doesn't change? The consistency in the quality of our product.
• Receive free delivery (every Friday) if you live in Riverside, IL or Brookfield, IL. If you live outside of those villages, please contact us to arrange delivery, porch pick-up, or shipping.
• Subscriptions are billed every 4 weeks and can be managed here.
• Subscribers will be signed up for our newsletter, which provides detailed information on each week's upcoming roast, roasters updates, discounts, brew guides, and more!
------------------------
Cottage Food Disclaimer (See FAQ for more information): This product was produced in a home kitchen, not inspected by a health department, that may also process common food allergens.